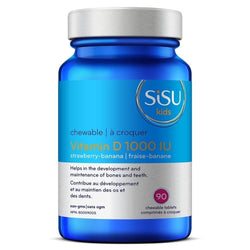 Vitamin d3 children 1000ui (90 cos)
Maintaining adequate vitamin D levels is particularly important in children, as growing bodies need it for the proper absorption of calcium and its retention in the bones. Providing the recommended daily maximum amount of vitamin D for children, this great-tasting banana-strawberry vitamin treat is naturally flavoured and easy to chew.
Benefits
The recommended daily maximum amount
Great-tasting, banana-strawberry vitamin treat.