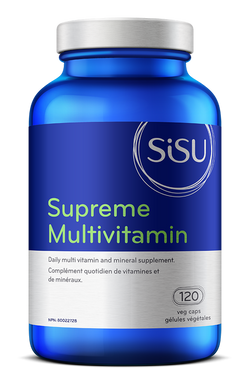 Supreme iron-free multivitamin (120 caps)
Sisu Supreme Multivitamin is ideal for everyday use to complement your diet and promote your best possible health. A full complex of high-potency B vitamins help with daily stresses and energy metabolism while Ester-C, vitamin K, boron, lutein, and antioxidant bioflavonoids provide balanced support for overall health. Available with or without iron.
Benefits
Your daily anti-stress multivitamin
Extra B vitamins for energy metabolism
Available with and without iron.