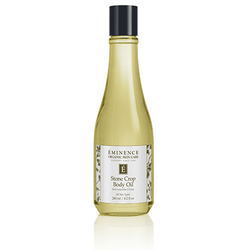 Stone Crop Body Oil (240ml)
VEGAN / NUT FREE / GLUTEN FREE

Soothe and soften dry skin with a lightweight body oil that absorbs quickly, leaving a matte satin finish. The combination of stone crop and arnica makes this lightly scented oil ideal for massage, hand and foot treatments or daily moisturizing.

RESULTS :
Skin is hydrated
Delivers a soft satin finish
HOW TO USE :
Dispense an appropriate amount of oil for massage and warm in hands prior to application or apply to cleansed skin as a moisturizer. Leave on. Do not use on broken or abraded skin. Alternatively, mix 1–3 drops of oil in your hand with your favorite body lotion or add 1–2 capfuls to your bath.