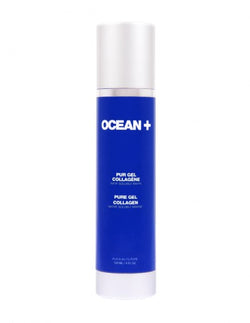 Ocean + Pure Collagen Gel (30ml)
99.7% Pure Native Soluble Marine Collagen Type 1

For all skin types. Hypoallergenic
Ultra-hydrating gel with 99.7% Pure Native Soluble Marine Collagen Type 1.
Ocean+ Pure Gel with Native Soluble Marine Collagen Type I is unlike any other collagen product on the market. In addition to its exceptional purity, its microfibers are so small that it permeates skin to produce maximum results:
Hydrates and soothes skin
Visibly reduces signs of aging.
Visibly reduces appearance of wrinkles
Leaves skin visibly younger looking
Visibly reduces appearence of dark circles and puffiness
Provides support for healthy tissue growth
Use
Apply morning and/or night to eyelids, eye area, face, neck and décolleté. Allow to penetrate for 1 minute.
IMPORTANT
Store in refrigerator or other cool place.
Ingredients
(naturally sourced)
99.7% Native Soluble Marine Collagen and 0.2% phenoxy-ethanol.
(INCI names: International Nomenclature of Cosmetic Ingredients)
This product contains no Paraben, Glycol, PEGs or any other chemical.
About Type I Collagen :
The most abundant collagen in the human body is Native Soluble Collagen Type 1,
which accounts for 90%. Type I collagen also makes up 75% of your skin,
and plays a role in the formation of tendons, bones, corneas and internal organs.
Gel collagène
J'adore ! Douce fraîcheur qui assouplit, facile à appliquer