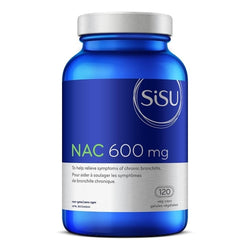 Nac 600 mg (120 vegetable capsules)
Help boost your immune system and reduce cold-and-flu symptoms with Sisu NAC 600 MG. NAC helps to increase levels of glutathione, considered the ‰"master antioxidant"‰ in the body and an important part of your cold defence system. Boosted by NAC, glutathione helps protect your lungs against respiratory illness. NAC also decreases the frequency of flare-ups and symptoms of chronic bronchitis.
Benefits
Relives symptoms of chronic bronchitis
Boosts the immune system
Reduces cold-and-flu symptoms
Anti-viral properties and mucolytic activity.