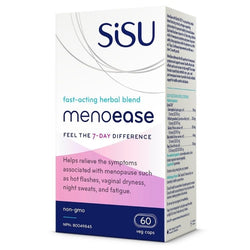 Calm meno (60 capsules)
Sisu MenoEase contains EstroG-100®, a proprietary herbal blend featuring natural, estrogen-supporting phytonutrients to promote healthy hormonal balance in pre-, peri- and post-menopausal women. With effects seen in as few as 7 days, MenoEase helps to relieve the full-spectrum of menopausal symptoms, including hot flashes, night sweats, paresthesia, insomnia, nervousness, hyperhidrosis, melancholia, vertigo, fatigue, vaginal dryness, and rheumatic pain.
Benefits
Relieves the full spectrum of menopausal symptoms
Fast-acting formula with EstroG-100®
Effects seen in as little as 7 days
Super produit !
J'ai essayé d'autres produits naturels pour les symptômes de la ménopause sans grand succès, mais ce produit est merveilleux ! Je n'ai presque plus de symptômes. Je le recommande fortement !