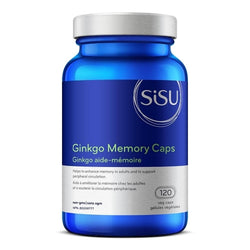 Ginkgo memory aid 60 mg (120 v-caps)
Ginkgo biloba is a safe, traditional herbal remedy that is proven to improve memory and aid in circulation to the brain and extremities. Sisu Ginkgo Memory Caps combine high-potency ginkgo leaf extract and raw herb powder to capture the complete spectrum of therapeutic benefits and contain antioxidants that scavenge free radicals to reduce tissue damage caused by oxidation.
Benefits
Helps enhance memory
Improves blood flow
Standardized leaf extract enhanced with raw herb powder.