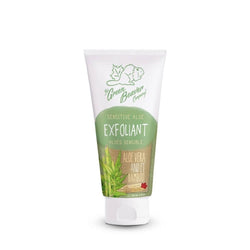 Sensitive Aloe Natural Exfoliant (60ml)
Our natural sensitive aloe exfoliant is specifically formulated for sensitive skin.
Bamboo micro-fibers bend and flex to gently remove dead skin without irritating your skin while purifying grapefruit will gently dissolve excess oils.
Organic aloe vera concentrate relieves red, irritated sensitive skin, leaving your skin to feel soft, smooth and balanced.
If you have acne-prone skin, this is also the perfect organic & natural exfoliant for your face!