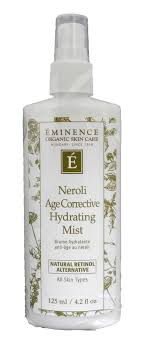 Neroli Age Corrective Hydrating Mist
BEST SELLERS / AWARD WINNING / VEGAN / NUT FREE / GLUTEN FREE

A collagen boosting toner with Natural Retinol Alternative and Swiss Green Apple Stem Cells for all skin types, especially mature. Your skin will feel smoother and appear tighter with the energizing boost of fragrant neroli oil. Cruelty-free and formulated without parabens, sodium lauryl sulfates, animal by-products, synthetic dyes, petrochemicals, phthalates, GMOs and triclosan.

RESULTS :
Epidermis instantly looks firmer and tighter
The skin appears calmed, matte and hydrated
The skin appears perfectly clear, fresh and toned
The skin appears vibrant and revitalized
HOW TO USE :
Spray directly on to face and neck, avoiding the eye area. Leave on. May also be applied with cotton pads.
La meilleur brume
Fidèle à cette brume Néroli depuis 4-5 ans déjà, je l'utilise matin et soir: le matin avant la crème, le soir tout seul. Une bouteille suffit pour 6-7 semaines environ. C'est un produit parfait pour celles qui veulent entrainer sa peau de se soutenir sans trop de crèmes, mais lui donner quand même un petit support hydratant anti-âge.