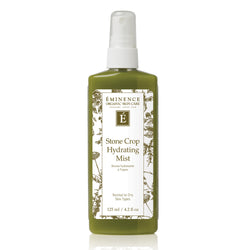 Stone Crop Hydrating Mist (125ml)
BEST SELLERS / AWARD WINNING / VEGAN / NUT FREE / GLUTEN FREE

A revitalizing and healing toner for all skin types, particularly uneven skin types. For use with Sun Defense Minerals to increase your skin's hydration level and to leave it looking smooth and moisturized. Cruelty-free and formulated without parabens, sodium lauryl sulfates, animal by-products, synthetic dyes, petrochemicals, phthalates, GMOs and triclosan.

RESULTS :
The skin appears perfectly clear, fresh and toned
The skin appears calmed, matte and hydrated
The skin appears vibrant with a lighter complexion
HOW TO USE :
Cleanse skin and apply one to two sprays onto face and neck or apply with a cotton pad, avoiding the eye area. Leave on. Re-apply anytime during the day for a lift and to refresh the complexion.
For use with Sun Defense Minerals: Apply minerals to the skin, then spray mist directly onto the face to set.
brume à l'orpin
L'odeur est divine et la brume hydrate ma peau pendant la journée…